Night Talk with Dian Nafi: FLP Semarang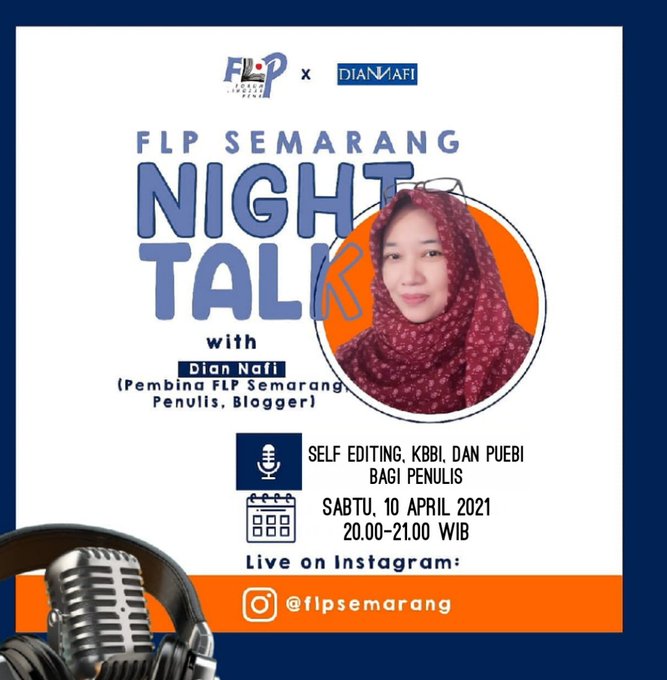 Alhamdulillah beberapa hari lalu Night Talk with Dian Nafi diselenggarakan oleh FLP Semarang. Temanya tentang Self Editing, KBBI dan PUEBI untuk penulis.
Acara ini merupakan bagian dari kegiatan Kemah Literasi (online) Forum Lingkar Pena.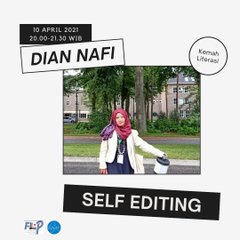 Presentasi PPT tentang Self editing ini diupload juga di youtube dian nafi.
Self Editing itu penting banget demi perbaikan naskah tulisan kita.
Terkait juga dengan self editing ini, aku jadi ingat cuitanku di twitter beberapa waktu lalu.
Mulai menikmati lagi keasyikan nulis kata demi kata. Baca ulang lalu lanjut nulis kalimat demi kalimat. Nyambung lagi paragraf per paragraf. Saat mantra craftmanship mbak Dewi Lestari merasuki kepala, ternyata rasanya beda ya. Ada manis manisnya. Gak tergesa2, gak buru2, lbh sabar.
Keasyikan berikutnya saat membaca ulang buat self editing. Mindahin koma, titik, nambahin tanda seru, mengganti kata, menghapus kalimat yang tidak relevan, menyisipkan layers.
Ada juga kursus terbaru terkait Self editing ini di Udemy: https://www.udemy.com/course/selfediting/
Selamat menulis!
Selamat self editing!
Advertisement